Troncones
es una villa playera que se mantiene en su estilo típico y que se encuentra a un poco más de treinta kilómetros hacia el occidente de la ciudad de
Zihuatanejo
, en el estado
Guerrero
, en el suroccidente de
México
. En esta población solamente viven un poco menos de seiscientas personas y se ha convertido en un destino para los que quieren experimentar el ambiente tranquilo de esta parte del
Océano Pacífico
.
Este sitio se encuentra ubicado entre la
Riviera Mexicana
y las montañas de la
Sierra Madre
y tanto locales como extranjeros llegan hasta ella para desconectarse del movimiento de las ciudades más grandes. La forma más fácil de llegar hasta allí es haciéndolo hasta el
aeropuerto internacional de Ixtapa/Zihuatanejo
, desde donde se puede tomar el transporte de algún hotel, un taxi o alquilar un automóvil para llegar hasta la villa, en un recorrido que toma unos cuarenta minutos.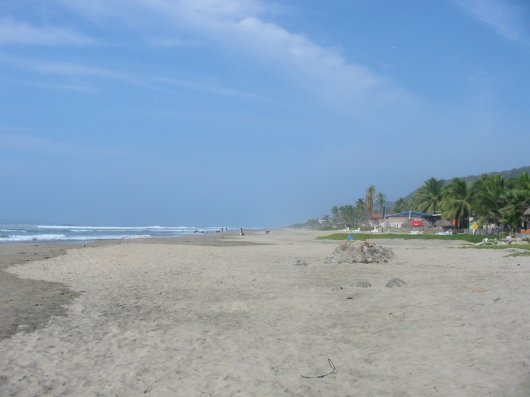 A pesar de que Troncones se ha consolidado como un destino de relajación en el que las playas mantienen ese estilo lejos de los resorts, siendo posible
caminarlas todas sin zapatos
, allí los visitantes pueden encontrar algunos
hoteles de buena calidad
, restaurantes en donde se pueden probar unos excelentes platos típicos y sitios que alquilan equipos para hacer diferentes actividades acuáticas, por lo que la diversión está garantizada.
La playa de este sitio tiene apenas cinco kilómetros de largo, pero se ha consolidado poco a poco como uno de los sitios preferidos por muchos para ir a disfrutar de unas arenas finas y un mar que está cálido y que se puede disfrutar durante todo el año. Además es uno de los destinos favoritos para los que practican o quieren aprender surfing, en sus alrededores hay sitios naturales de gran valor a los que se puede ir a hacer senderismo, kayak y observación de aves, entre algunas otras cosas.
Troncones is a beach town in the typical style that is just a little over thirty kilometers to the west of the city of Zihuatanejo, in Guerrero state in southwestern Mexico. There is a population of only a little less than six hundred people and it has become a destination for those who want to experience the calm of this part of the Pacific Ocean environment.
This site is located between the Mexican Riviera and the mountains of the Sierra Madre and both local and foreigners come to it to disconnect from the activity of the largest cities. The easiest way to get there is by going to the International Airport of Ixtapa / Zihuatanejo, where you can take the shuttle to a hotel, a taxi or rent a car to reach the villa, a journey that takes about forty minutes .
Although Troncones has become a destination for relaxation in which that style that beaches are kept apart from resorts, a barefoot walk is possible, and visitors can find some good quality hotels and restaurants where you can taste excellent dishes and places that rent equipment for various water sports, so the fun is guaranteed.
The beach is only five kilometers long, but has gradually become a favorite for many to go to enjoy fine sand and a sea that is warm and a site you can enjoy all year . It is also a favorite for those who practice or want to learn surfing. In its surroundings there are valuable natural sites to which you can go hiking, kayaking and bird watching, among other activities.